If someone asks you about your dream bedroom, what immediately comes to mind? The bed is the single most important piece of furniture you need to pull your room together. Don't let your dreams stay dreams. Let us help you find your dream bed frame without busting a hole in your wallet! Find the right bed frame that suits all your needs, meets your expectations & matches your aesthetic.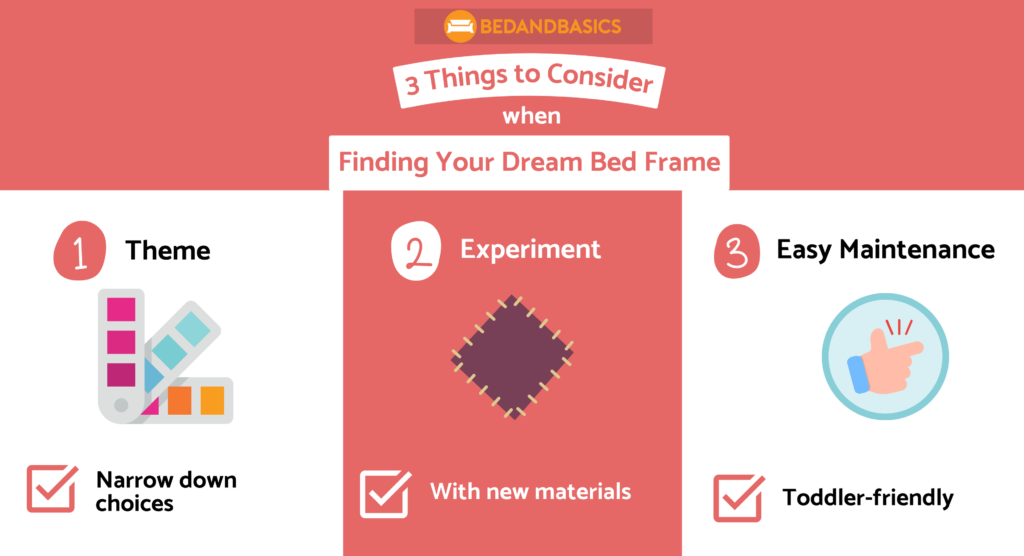 Theme of Your Ideal Bedroom
A big factor to consider is the theme of your ideal bedroom. Minimalistic? Japandi? Modern? What kind of style do you have in mind? If you're still not quite sure, think about the overall aesthetic of the room. This way, you can narrow down some choices!
Here are some themes you could consider before purchasing your dream bed frame:
Japandi-Style
For a Japandi-styled room, you would want to have calming, zen and tranquil elements. As the name suggests, Japandi interior is a blend of both Japanese and Scandinavian styles. In such a room, you may consider getting a lighter coloured wooden bed frame with a minimalistic design.
Japandi-styled rooms are also big on featuring space-saving furniture. Consider bed frames with storage compartments to keep a simple and clean room aesthetic.
Hot tip: Replace your dusty old curtains with blinds that complement your room décor to allow more light into the room.
Bachelor Pad
Design your ideal room according to your needs. Create your very own dream bachelor pad with a loft bed that allows you to not only save space, but also transforms your room into an entertainment lounge!
Here are 4 different ways you can fully utilise the space below your bed and elevate your room:
Modern & Classy
While on the other hand, modern homes comprise of clean lines, classic upholstery hues and furniture that screams elegance.
Who says you got to break the bank in order to put together a modern and elegant room?
A faux crystal tufted headboard is the perfect combination of elegant and trendy. You can easily play up this look with a simple comforter and pastel-coloured bedsheet.
Don't Be Afraid To Switch It Up!
Why stick to old, traditional bed frame when you can experiment with other materials such as velvet? A bed frame with velvet upholstery immediately turns your bed into the centerpiece of the room!
On top of adding texture and edge to your room, velvet exudes elegance and class.
Legs for Days
Opt for a bed frame with removeable legs for versatility. A low-rise bed promotes feelings of warmth and tranquility.
Other than the fact that you no longer have to worry about the bottom of your bed being dusty, a low-rise bed creates an illusion of higher ceilings. This is exceptionally useful if you have limited space to work with as it opens up your space.
Worry Less, Relax More
We understand how difficult it is to maintain furniture with your kids constantly making a mess. However, you don't have to compromise on style and comfort. The answer to your nightmare: bed frames with stain-resistant fabric!
Not only can you easily wipe off any forms of liquids, stain-resistant bed frames are highly durable and therefore can withstand for a long time, making it pocket-friendly.
Comfort is Key
When shopping on a budget, it is still possible for you to pick out good designs without compromising on comfort. Before deciding, try to view the bed frames you've shortlisted at showrooms so you can have a better idea of materials used and the quality of it.
There you have it! We've just proven to you that you don't have to spend a bomb to find your dream bed frame. We hope this has helped you in find your perfect bed frame. Shop for our wide range of affordable bed frames at BEDANDBASICS today!
Find out more tips & tricks to find your dream sofa on a budget here.